Well, this is disappointing.  Our July electrical usage was 7% higher than the previous year.  What is happening?  I thought insulation was supposed to reduce our energy usage!
Taking a closer look reveals our insulation was still working, but we had some very warm weather in July.  Below is a map from The National Climate Report showing July 2019 vs the average from 1895 to today.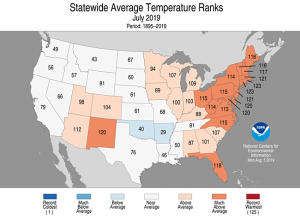 The National Climate Report also had this to say:
" Some of the warmest areas were across Ohio, northern Illinois and southern Wisconsin. Minimum temperatures were very warm across the region. Of the more than 400 daily high temperature records broken or tied in the region, more than 370 were for high minimum temperatures."
In other words it got hot, and stayed hot, even in the evenings.  I guess we should be thankful we had the insulation in place; our bill would have been much higher without it! For the month of July, I will be subtracting $8 from the total saved so far, leaving us with $29 in savings.  August is shaping up to be better, so we should return to seeing lower energy usage next month.
Total Saved June – July, 2019: $29